If there's a near-foolproof way of ensuring your customers are aware of your latest update, promotion, or important announcement, it's sending them an SMS message.
Market research reveals that roughly 90% of consumers will open a text within three minutes of receipt, even if they don't recognize the sender ID. Compared with the average email open rate of 20%, adopting an SMS service for your business seems the natural course of action.
Benefits of Using an SMS API Messaging Service
While staggering, the open rate alone might not persuade you to incorporate SMS messaging into your standard business operations. That's okay. There are plenty of other reasons to use this highly prevalent form of communication.
1. Wider Audience Potential
Especially nowadays, it's easy to assume that everyone has internet access and uses an email address. In reality, there are around 3 billion people with buying power that don't. Nevertheless, these consumers are still potential clients that have the potential to invest in your services.
Indeed, about 3 billion more people have phones, meaning your SMS messages have a much wider potential reach than an email blast. Text messaging can reach those consumers and markets that have been overlooked. Can your business afford to miss out on 3 billion budding customers in this highly contentious economy?
2. Customers Prefer SMS
Across the board, consumers express that they prefer receiving SMS messages over calls or emails. Think about it: It's awkward answering the phone from an unknown number, and most people want to avoid it. As for emails, it's easier to delete them all because inboxes are flooded daily with business communications.
SMS messages are short, simple, and straight to the point. Customers can choose to respond on their own time instead of being put on the spot with a direct phone call. Moreover, unlike emails, it doesn't force anyone to sift through a large amount of text, looking for the most relevant sections.
3. Multi-Functional Usage
Business SMS communications are more than just promotional content despite what your inbox might look like. Your company can also leverage SMS to send critical announcements and implement 2-factor authentication (2FA) with one-time passwords.
Using SMS for security purposes can be highly useful for protecting your customers' identities and personal information. Moreover, implementing 2FA boosts your reputation and indicates that your business is investing in keeping clients safe.
Another way to take advantage of SMS is to enhance customer care. You can send out links to surveys, encouraging your customers to rate your services and give you feedback about what you can do better. With two-way capabilities, you can even communicate directly with your client, letting them know you're there to support them on their buying journey.
4. Extremely Cost-Effective
When you find a trustworthy SMS messaging service provider, you'll discover that rates can be lower than $0.01 per message. Sign up for free today to view CommPeak's highly competitive rates. The minimal price of sending SMSes to customers is grossly outweighed by the relief your customers will feel receiving a message rather than a call.
Additionally, investing in an SMS message is a surefire way of guaranteeing your communications are read. With SMS, you can rest assured that your money has been well-spent and not wasted.
What Is an SMS API?
SMS APIs are very useful, particularly for businesses that must communicate essential and timely information to customers. But while any developer could tell you how this useful technology works and how to implement it, the rest of us might need a bit more explanation.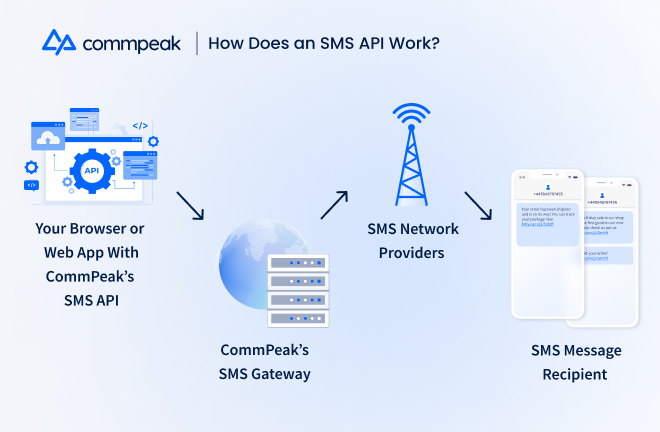 An SMS Messaging API is a programming interface that equips your business application or website with direct SMS-sending capabilities. The API connects your platform with an SMS provider's network, enabling you to send messages directly from your system to a customer's mobile device. Ultimately, the API documentation serves as a translator between your business and your SMS provider's network.
How to Choose the Best SMS API Provider
Although choosing which business SMS API you want to incorporate into your platform is not a make-or-break situation, it's still a decision that requires you to do some research. Make sure you consider the following factors when figuring out which provider is best for your SMS-sending needs.
1. Integration Time and Support
Typically, API providers unlock their documentation, and it's up to you or your developer to integrate it into your existing systems. If your team includes a more experienced developer, you can have your SMS capabilities up and running anywhere between 30 minutes to an hour. Once completed, your platform can start sending SMS messages to your customers as needed.
While integration is performed client-side, it's still critical that your provider be able to offer support when necessary. When you're perusing your options for an SMS messaging service, make sure to explore the available type of assistance. For instance, CommPeak provides 24/7/365 support for all of our customers, ensuring if there's ever an issue with the SMS API, we can address it quickly.
2. Delivery Statuses and Updates
SMS-sending capabilities are only the first part of the puzzle. Once your internal platform can reach out to customers via this convenient medium, you should be able to track whether or SMS has been successfully delivered. On top of being able to confirm that your communications are going through, these statistics are helpful when trying to optimize your marketing efforts.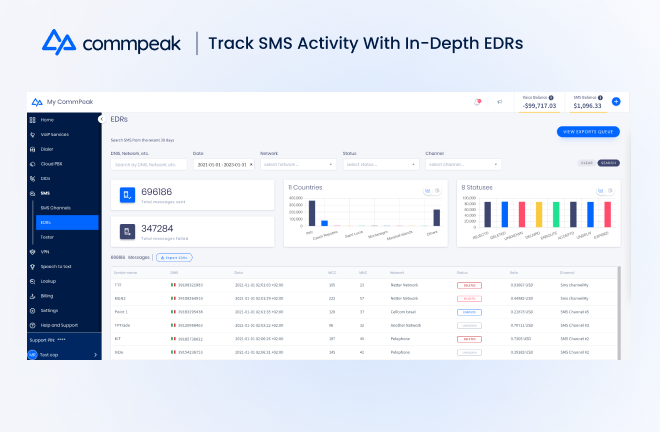 Some SMS messaging service providers equip your business with in-depth event data records (EDRs) regarding SMS activity. Ideally, you should be able to review your SMS event history going back at least six months. You should also be able to easily views which sender IDs you used and the recipients' locations. All of the data will help you maximize your engagement effectiveness.
3. Transparent Pricing and Billing
SMS messages are generally much cheaper than VoIP or calling alternatives, making them so attractive to businesses. However, not all SMS API providers market the same prices. When selecting the SMS vendor you'd like to use, be sure to check out their prices. Your decision also depends on the primary countries you'll be sending most of your messages.
Another factor to consider is how you'll be able to monitor your spending, especially if prices change over time. Your SMS expenses should be clearly outlined in your EDRs, allowing you to easily organize your finances and account for your charges.
4. Messaging Customizations
When it comes to business SMS communications, there are more customization options to consider than if you were sending messages as an individual. For example, you'll need to determine whether your potential SMS API provider allows you to send promotional, transactional, and one-time password messages to your customers.
You'll also want to consider if the SMS vendor supports sender IDs with two-way communication channels or only one-way. Does your business have a preference for using long-code vs. short-code IDs? If yes, you'll also want to explore this capability. Even if you currently do not require these customizations, it's best to choose a provider that can offer them in case your needs change.
5. Security Compliance Measures
Security should be at the top of every business's priority list nowadays. Your customers shouldn't be worried about whether or not potentially exploitative parties can access their personal data. When conducting your research, you would do well to find out what protocols and measures the provider has in place to protect sensitive information.
Important questions to keep in mind when exploring an SMS messaging service provider's security protocols:
Is the SMS traffic encrypted end-to-end?
Can I create an IP-based authorization list?
Can I establish a token-based authorization for API requests?
Is there an option to integrate with SMPP (a secure SMS protocol)?
When it comes to protecting critical data and customer details, it's always best to err on the side of caution. As they say, it's better to be safe than sorry.
6. Network Connectivity
Worldwide, there are more than 1000 mobile operators. Each SMS API works with its unique network of these operators to ensure your messages are delivered to your customers swiftly. You'll get access to different SMS partners depending on which API you integrate into your system. But not all of these partnership networks are equal in quality.
To avoid deliverability issues and increase the chances of your customers receiving your SMS messages, you should select a provider with multiple connections to the various operators within a country. Solid, consistent connectivity minimizes the potential of your SMS not being delivered. When conducting your research, ask the sales team about their SMS network.
Send SMS Messages More Easily With CommPeak
As with most important business decisions, finding the right SMS service API provider is primarily based on your specific needs. Ultimately, you want to be able to communicate with your customers and make sure you've done everything in your power to give them the necessary and relevant information. With CommPeak, you'll have this ease of mind for highly cost-effective prices.
We work with a wide range of providers to maximize your delivery rates. You'll always be able to keep track of your SMS activity with our in-depth EDRs. Additionally, we employ multiple layers of security, keeping both your business and your customers safe.
Contact our sales team today to get started or sign up for your free trial. You'll be sending SMS messages by the end of the day.