Any modern office, even a work-from-home setup for solo-flying entrepreneurs, can't function without a business VoIP phone service. Your business could theoretically adopt a FreePBX/Asterisk setup to host your phone system, but this involves hidden complications. Fortunately, it is much easier to make the most out of any VoIP solution and generate revenue from it.
Turn Your Contact Center into a Profit Center
Customer service and sales require investing in VoIP phone systems and a talented workforce, which can be expensive. As a result, these critical processes are often outsourced or offshored. The good news is that this outsourcing strategy isn't necessarily your only option. Businesses can operate in-house contact center operations and take full ownership of the customer experience.
Being in control of your business communications doesn't change the fact that running an in-house contact center impacts your bottom line. However, overcoming this challenge is far more beneficial for your brand reputation and customer satisfaction in the long run.
The Six Smartest Ways to Make the Most Out of Your VoIP Phone Systems
1. Find a Technology Partner
Cloud VoIP providers are a dime a dozen. Differentiating vendors by features alone isn't sufficient because VoIP calling services are all roughly the same, just bundled in different pricing packages. Focusing on price isn't ideal either because you get what you pay for. Additionally, tiered pricing models can trick you into paying for the most expensive subscription because the limitation of the affordable plan constrains you.
The solution is finding a development partner that helps you achieve your desired business outcomes, continuously improves their product, and delivers consistent, timely support. While you may hear these promises from every cloud VoIP provider in the market, looking at user reviews may provide a different story. Take the time to research and ensure you're choosing a trustworthy partner that's watching out for your best interests.
2. Leverage VoIP Phone Services Strategically
What if you're a small business and your resources are limited? Large enterprises can afford to choose a long-term solution rather than just what's convenient right now. They also have a safety net to adapt to unexpected market changes and reduce losses. Rather than settling for a "Starter" plan, they can get an enterprise-caliber business phone system.
The solution for smaller and mid-sized companies is to find a business VoIP phone service with proprietary tools available in one integrated platform. You can use one software, purchase add-ons, and then scale as necessary. This approach enables you to only pay for what you need and avoid having disparate communication tools.
For example, you can start with a VoIP service and a few DID numbers (or port your existing ones). Then you can level up to a Cloud PBX when the call volume increases for more capacity. Once your customer service department expands and agents make even more sales calls, you can get an automatic dialer to accelerate productivity.
3. Empower Your Agents
Call centers are well-known to have high turnover rates. Agents are on the frontline to receive the frustrations of disappointed customers. Worse, customers often complain about poor support without considering that agents can be limited in what they can do, the information they have, and the systems they can use.
The solution is to find a business VoIP phone service that provides an innovative communication platform with user-friendly dashboards. These providers offer your agents access to a dedicated workspace that tracks all customer interactions, records complete caller information, and effortlessly schedules a callback when necessary. At the same time, your managers can use this platform to configure skills-based routing that distributes calls efficiently. As a result, your contact center operations are proactive.
4. Focus on Customer Outcomes
The most common metric call centers use is AHT (average handling time). AHT is the total average call duration, including hold time, talk time, and admin tasks related to the call. While it's a convenient management tool, it's arguably one of the worst metrics to measure customer satisfaction. AHT thresholds reward agents who get customers off the phone as fast as possible, assuming that the concerns have been resolved quickly and effectively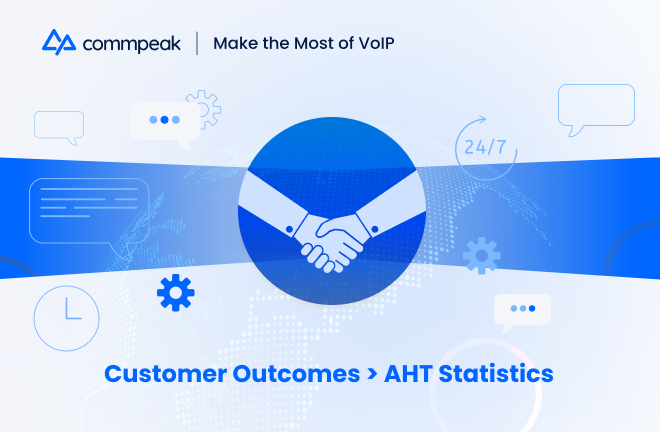 To avoid falling into this all-to-commonplace AHT trap, businesses should focus on customer goals instead of reducing handling time. These alternative KPIs and performance metrics are easier to implement and measure if you run an in-house contact center because qualitative factors are harder to measure when outsourcing. This approach enables your customer service to work smarter because agents can focus on settling the issue regarding how long it takes, preventing repeat calls.
5. Monitor Your Calling Stats and KPIs Regularly
One of the most useful benefits of calling over the internet is that everything is easily trackable! Your activity is directly stored in the cloud, allowing you to keep an eye on everything from spending to average call time. And it's important that you do because, as with all technologies, tricksters have found a way to take advantage of this helpful communication protocol.
Make sure you learn the strategies for avoiding FAS and looping voice. Trustworthy VoIP providers offer user-friendly dashboards that make monitoring KPIs and spending habits effortless. Not only will you have the tools to catch any signs of suspicious activity, but you'll also be equipped to review your performance and optimize accordingly.
6. Connect Customer Service, Sales, and Marketing
Traditionally, customer support is an isolated department. As a result, they often end up as a medium for customer complaints. However, if customer support representatives are not treated as anything more than suggestion boxes where you can submit one-off issues, your VoIP phone service won't deliver as much value and will remain an expense to your business.
The solution is to treat your business VoIP phone service as part of an ecosystem. When you've chosen the right cloud VoIP provider, you'll have access to comprehensive features and enhance customer experience with data. VoIP phone systems can be integrated with CRM software, enabling you to update customer information and personalize conversations to improve customer experience, boost conversions, and upgrade your brand reputation.
CommPeak's VoIP Phone Services for Business
A VoIP phone system can be more than just software that allows you to make or receive calls. CommPeak provides a cloud communications solution that helps your business balance business growth, cost efficiency, and customer retention.
Contact our sales team and learn more about our cloud communications solution that will take your business to the next level.