You need a business communication solution but don't want to pay a monthly subscription fee. So you figured, "What about FreePBX? Those misleading tiered plans aren't going to squeeze any coin out of me"!
At first, it seems like a great idea to save some extra cash and use it more effectively to invest in other business areas. However, using a FreePBX system requires configuring ad hoc and fixed devices to create a modern telephony solution, demanding even more technical knowledge.
Many would-be FreePBX users are left wondering: What are they, and are they worth all the time and effort?
Building Your Business Phone System With FreePBX
FreePBX is a web-based graphical user interface for Asterisk, a framework for building cloud communications. Both software is open-source, meaning anyone can download and modify them without paying a fee. Even if you're not the most technically inclined, you can build a simple business phone system (also called an IP PBX) based on Asterisk using FreePBX.
To enhance the functionality of FreePBX, you can purchase add-on modules, including a CRM link, queue wallboard, and call recording reports.
You can already imagine how this can work to your advantage. You can build a business phone system with all the required features. You don't have to settle for affordable starter plans with limited offerings or be forced to pay for expensive enterprise plans with everything you need.
One of the critical steps in setting up your DIY business phone system is figuring out the device you will use. Within FreePBX, a device is defined as
Fixed – A device permanently assigned to a single user
Ad hoc – A device that different users can use
Fixed vs. Ad Hoc Devices
Determining the correct device type for your office depends on your operational needs.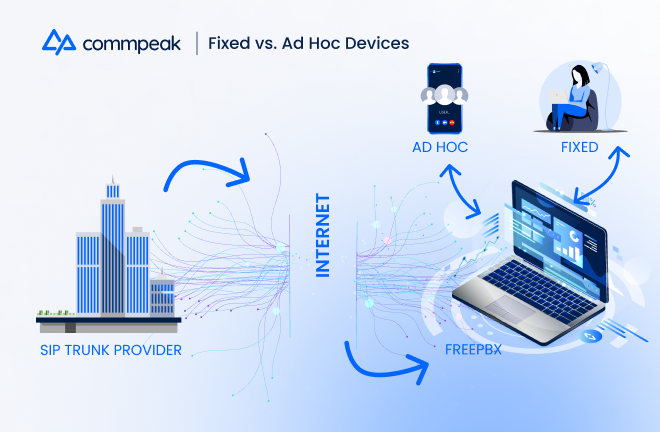 Fixed Devices

These devices are suitable for offices that only need one device per user. They are for staff who are required to work onsite and don't need to leave their desks to do their job. In this kind of work environment where everyone has a predictable routine, such as filing and administrative positions, you can use a desk phone or softphone.

Softphones are particularly helpful for businesses that need to divide their communications based on specific roles or functions. For instance, the CommPeak Softphone supports multiple SIP accounts simultaneously, allowing staff to switch between accounts effortlessly.

Ad Hoc Devices

These devices are great for offices that need one device to serve multiple users. Let's say you have a manager who has offices in different locations, staff with rotating shifts, or an employee who keeps forgetting their work phone at home. Ad hoc is a practical solution for businesses with limited resources or require flexibility.
Which One Should I Choose?
You don't have to limit yourself to one type of device. You can mix ad hoc and fixed devices within your premises, which can be very beneficial given the work environment. For instance, imagine you run a hospital. You can have a desk phone (fixed) at the nursing station and provide the doctors with Android phones (ad hoc). Nurses can call other departments and contact doctors quickly without disturbing patients.
What's the Catch?
By default, FreePBX is in "Extension Mode," where the device and user settings are managed. In this mode, devices (phones) and users (people) are automatically assigned the same identification number, such as an extension number. Each phone is designated specifically for one user.
To manually set up fixed and ad hoc devices, you need to switch from "Extension Mode" to "Device and User Mode." The "Extensions" will disappear and be replaced by two separate modules – "Devices" and "Users."
The Device module is for device-related settings, such as device number (different from an extension number). The User module is for user-related settings, such as a person's name, extension number, and voicemail.
"Device" and "User" Modes have two main advantages:
Two devices can have the same extension number. This configuration is suitable for a user with two offices on different floors. They will receive a call to their extension number regardless of which office they're located in.
Extensions can roam from one device to another. To illustrate, an employee can use any phone and log in with their feature code, enabling their extension number to be assigned to that phone. Once finished with their shift, they can log out, and another employee on the next shift can use the same device with their extension.
When you apply "Device" and "User" Modes to fixed and ad hoc devices:
Fixed Device – One user to one device; also functions as an extension.
Ad Hoc Device – Can be assigned with a default user, so a login is not required, and other users can still use the device; once they log out, it reverts to the default user's extension. It can also be assigned with no default user, so it can't be used until someone logs in.
The catch is that "Device and User Mode" is an advanced module. FreePBX and commercial modules do not support it and are incompatible with specific third-party apps. You are responsible for testing and fixing your problems. If you call the FreePBX support team, they will explain that the module is not supported.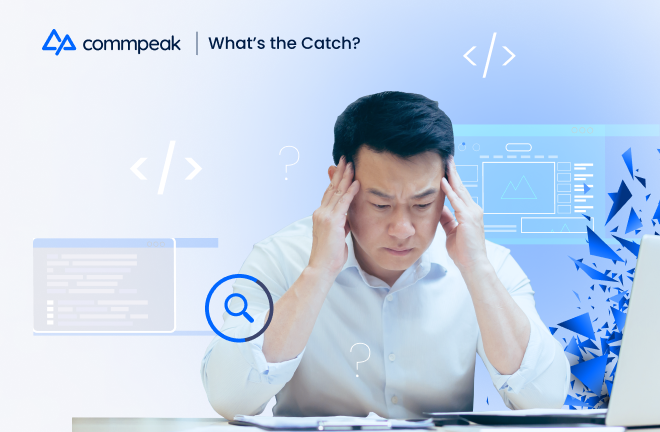 You can ask for help in the Forum section, but since only a few people use this mode, getting the correct answer can be difficult. There is also an option to make feature requests and report bugs. However, there is no comprehensive documentation on what you can accomplish with the Device and User Mode. So you'll have to figure it out yourself or hire an experienced IT professional.
In a modern office environment, particularly given the market shift to remote work, you will inevitably need a mix of fixed and ad hoc devices. You can still have your dream business phone system. However, this demands a cost higher than the infrastructure and skills you will need to keep it running: time.
FreePBX Isn't Free At All! What Do I Do Now?
Your customers won't care how you figured out the right dial plan to route your incoming calls. They'll only care about the quality of your customer service. CommPeak provides a cost-effective business communication solution that we'll customize according to your needs. We'll work with you to develop a communication plan so you can start making more profitable relationships as soon as possible.
Schedule a free demo or contact our sales team today.