One of the most critical factors leading to your business success is your ability to track and analyze specific performance statistics. Having multiple SIP accounts helps you organize this data based on various parameters if you communicate a lot throughout the day.
But switching between all of these accounts often leads to operational delays and missed calls, damaging your reputation and profitability. It's with this time-wasting obstacle in mind that CommPeak updated our free Softphone to support multiple SIP accounts simultaneously.
Now, you can effortlessly organize all of your communications without ever needing to stall your workflow.
Segment Your Statistics
Utilizing multiple SIP accounts enables businesses to divide their communications based on specific rules. For instance, if your contact center serves as a point of contact for numerous 3rd party company brands, you can create a separate SIP account for each one. Any leading softphone provider will recognize this underlying potential need and should offer this helpful feature.
This separation makes it much easier to keep track of essential information. You no longer need to manually search for the applicable calls to assess the relevant data or calculate the various costs. Instead, you'll receive independent reports for each account.
In addition to having various SIP accounts for your different white labels, you can also create SIP accounts per:
Marketing campaigns
Desks or teams
Language(s) spoken
Regional offices
Ultimately, separating your contact center communications into different divisions allows you to make more accurate analyses, equipping you to focus on and optimize the essential areas.
Add Up to 5 SIP Accounts
CommPeak's new Softphone feature allows users to add up to 5 SIP accounts and switch between them without logging in and out multiple times. Note that our Softphone currently only serves CommPeak SIP accounts and extensions; accounts from other vendors won't work.
You can add or manage SIP accounts directly in your Softphone settings menu. If you forget how to access your SIP credentials, read this article.
If you're just getting started with CommPeak, you can set up a new SIP account with us by following these easy steps.
Color-Code Your Accounts
What good would it do you if you could manage all of your accounts but not have the ability to distinguish which calls apply to specific segments? No good at all! To ensure you can easily differentiate between SIP account activity, CommPeak has included an intelligent color-coding feature.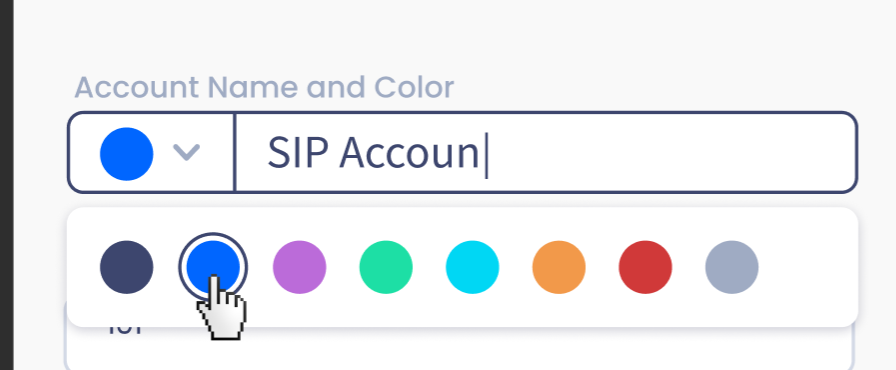 You can designate an associated color when adding a new SIP account to the Softphone. Choose between a navy blue, CommPeak blue, purple, green, light blue, orange, red, and gray. The recognizable colors make figuring out which call belongs to which SIP account stress-free.
Moreover, when you need to switch your outbound calling account, the color coding ensures that you don't get confused. Otherwise, you might end up wasting your time or, worse, calling a customer from the wrong account.
Operate Accounts Simultaneously
You simply have to navigate to your home screen whenever you want to switch your SIP accounts. Select from the drop-down menu from which account you'd like to make outbound calls, and start dialing the phone number.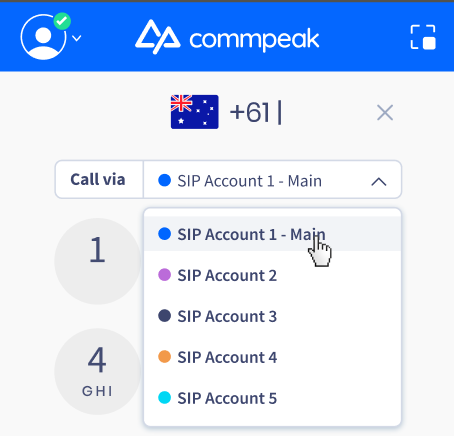 Another benefit of the concurrent SIP accounts is color-coded inbound calls. You'll be able to understand the nature, and perhaps even the topic, of the call before you even answer the phone.
Track Your History from a Single Interface
If you need to review your calling history and other call-specific details, you can click on your call history page. All of your calls will be listed there, regardless of which SIP account you used to make the call.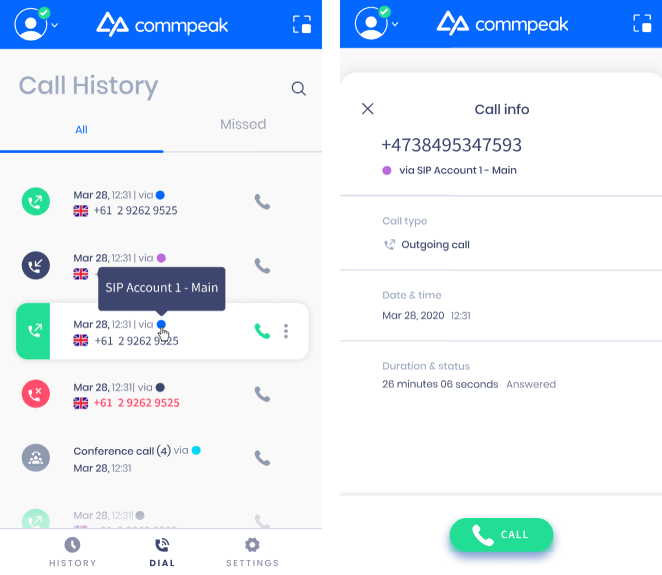 Each of your calls will be color-coded according to what you choose, so you'll know right away which SIP account the call is connected to. If you want to explore more in-depth calling details, you can click on the respective call, and you'll discover the call type, the date and time of the communication, the duration, and the status.
Communicate Stress-Free With the CommPeak Softphone
With our user-friendly softphone for business, you can effortlessly manage all of your business communications. Execute all of your calls from a single interface, no matter which SIP account you're using. The simultaneous usage ensures you can organize your performance indicators based on the parameters you require without ever needing to waste time or miss customers' calls.
Access your free softphone download today, or sign up with CommPeak today to get started!