Contact centers have the complex challenge of satisfying two consumer sources – their clients and their clients' customers. They grapple with myriad issues, such as achieving their contract requirements without forcing agents to meet their productivity targets at the expense of customer satisfaction. Call logging software is not the first solution to come to mind, but it plays an essential underrated role.
There are many communication channels, such as messenger apps, social media, and email, but customers still prefer to call. They're not only looking for answers or pieces of information; they need a person to talk with, an important factor in customer service that you can't replicate with digital interactions. Here's how you can use call logging to enhance these interpersonal communications.
What is Call Logging Software?
Call logging software gathers statistical and technical data about your phone calls. The information it collects includes the duration, type, and the number of answered calls, which are stored as call logs.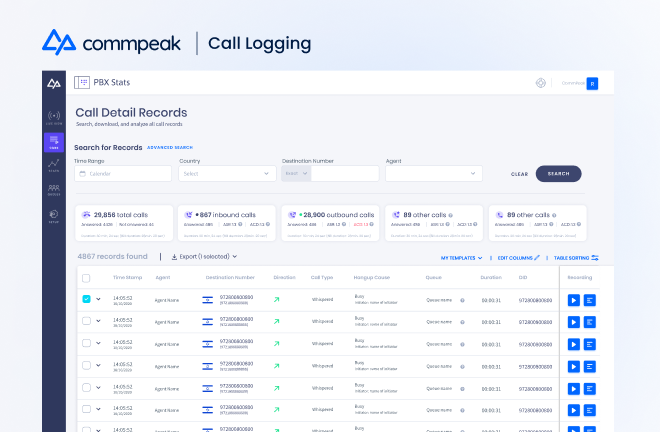 You can download call logging software as a siloed solution or pay for a complete contact center platform. Call logs are a standard feature in business communication solutions offered by cloud VoIP providers.
Why Are Call Logs Important?
Call logs provide essential contact center metrics such as average handling (or call) time, first call resolution, and average answer speed. These metrics enable contact centers to determine if they meet their KPI (key performance indicator) targets.
To hit their service level agreements (the industry average is 80% of calls within 20 seconds), contact centers fixate on the number of answered calls rather than the quality of customer service. The most common tactic is to limit average handling (or call) time, giving the agent an inadequate timeframe to address customer issues.
Fortunately, call logs can help contact centers shift the focus back to customer satisfaction and help agents do their job efficiently.
CommPeak's Call Logging Solution
CommPeak understands that contact centers constantly juggle client, customer, and agent satisfaction. Our cloud-based business communication solutions are designed to empower your workforce and optimize processes. Ultimately, with CommPeak call logging software, you can create the right environment for your agents to deliver an efficient customer experience that bolsters your brand.
Our Cloud PBX and CommPeak Dialer have built-in call logging features to analyze inbound and outbound calls. These features include:
Call Recording – Listen or download call recordings directly from the dashboard.
Complete Call Data Records – View call history, destination, queue, and cost details. You can also view a summary of the calls using main call metrics, including average duration of calls, number of answered calls, bill duration, and more.
Call Records List – Examines detailed data of calls from the CommPeak Dialer, including the type of call, status, campaign, and customer's phone number.
Call Analytics – A customizable report lets you extract data from your call logs and apply various filters to get the necessary information. You can generate and schedule reports weekly.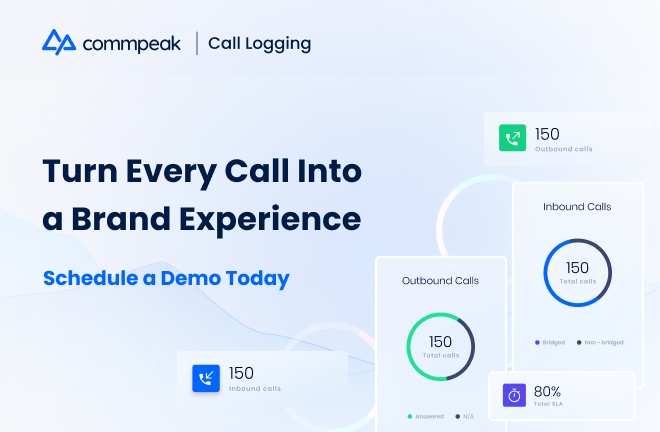 Call logging may not be a shiny automation tool with a name that providers tend to jazz up for marketing purposes. Nevertheless, these detailed calling records provide relevant data you can mine for critical performance insights. You can also configure different filters to have a more granular view of your contact center performance.
The Benefits of Call Logs for Contact Centers
Cost-Efficiency

Call logs enable you to use your resources wisely. For example, you'll know how to optimize shifting schedules by looking at peak times when there's a high call volume. You'll also learn how to deflect calls by transcribing call recordings to text and analyzing caller intent. You'll find out when to provide new options by observing hold times.
Growth Opportunities

Call logs provide actionable analytics. Call data records can show call volume trends and callers' demographics. Maybe you need a new team of native speakers for a specific market or service. Call recordings can improve training, productivity, and performance. You can similarly use calls from top-performing agents to train new hires and improve sales scripts.
Service Culture

Move away from frigid transactional customer services to a positive brand experience by using call analytics and looking at the factors behind the numbers. Instead of forcing agents to take 100 calls daily with unreasonable average handling times, you can find ways to serve customers efficiently. Sometimes the solution can be as simple as referring callers to your website or Help Center.
Agent Satisfaction

Call centers have a bad reputation for being one of the worst workplaces because agents are treated like robots. Using call log data, you can improve agent training, skills, and experience effectively. As a result, they'll have a sense of purpose, not just feel like they're a cog in the machine.
Create the Experience Your Customers Deserve
Be the exception. Build a contact center experience your agents will appreciate and customers will love. CommPeak has over ten years of experience helping businesses of all sizes build profitable customer relationships worldwide.
Schedule a demo to see our contact center solutions in action, or sign up for a free trial and take a peek at our intuitive platform.