CommPeak always says our customers' security and data privacy is our number one priority. But everyone knows that actions speak louder than words, which is why we're thrilled to announce that we are now ISO/IEC 27701:2019 compliant! This international standard affirms our commitment to your data safety and ensures you can meet your targets stress-free.
What is the ISO/IEC 27701:2019?
ISO is the International Organization for Standardization, a global network of non-governmental bodies that develop expert-level industry standards for multiple business sectors. Among these standards are security and data privacy threshold requirements.
The ISO 27701:2019 is an extension of the ISO 27001:2013, a standard with which CommPeak already complies. This update was designed directly to correspond with the EU's General Data Protection Regulation (GDPR), so CommPeak is simultaneously GDPR compliant, as well!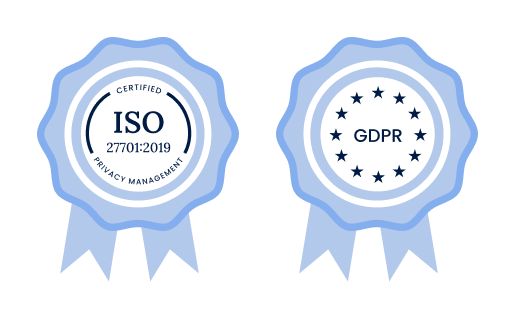 For more information about the ISO/IEC 27701:2019, click here.
For more information about the EU GDPR, click here.
What Does This Mean for CommPeak Customers?
The number of cyber attacks and scams has exponentially increased in recent years, causing an unprecedented level of fear for companies operating in any industry. However, these certificates and compliances publicly confirm that customers' data and personal information are fully secured when they choose to work with CommPeak.
Because a distinguished, internationally recognized third party affirms CommPeak's security commitment, customers know they don't just need to believe our word without any evidence. An ISO-accredited auditor has carefully reviewed our physical and virtual infrastructure and guarantees that CommPeak has taken and continues to take critical steps to protect its customers' data.
A Word from the CEO
"CommPeak has undergone considerable measures to earn our ISO 27701:2019 certification and GDPR compliancy, and we are very proud of the entire team. Everyone participated in multiple training sessions and is dedicated to following strict security guidelines to ensure that all company-related data is appropriately labeled and stored.

CommPeak truly goes above and beyond to protect its customers' personal information from any potential threat. These accreditations speak that fact, and we will continue to stay committed to this mission."

– Tom Horn, CommPeak CEO
Stress-Free Communication With CommPeak
For your business to thrive, you and your employees need to stay focused on meeting targets, boosting sales, and maximizing efficiency. Any vulnerability to your data has the potential to interrupt this process, stalling your operations for a few days at best and causing irrevocable harm to your entire company at worst.
CommPeak is dedicated to our customers' success, understanding that establishing robust data protection measures is the first step towards achieving this goal. When you choose to operate with CommPeak's VoIP services, you'll never have to worry about security, allowing you to invest all your resources into growing and developing your business.

To get started with CommPeak's highly secure communication solutions, contact sales today!