In today's business world, communication is key. In order to build and maintain client engagement, businesses must be able to reliably reach and respond to customers and likely potential clients around the clock. And yet, keeping track of all these customers' respective details can prove challenging, especially as people's contact information constantly changes.
It's these consistent updates that have businesses throughout all industries turning to Home Location Register (HLR) Lookup, a powerful tool that helps businesses verify mobile phone numbers and access their respective clients in real time. This highly efficient service tells you everything you need to know to maximize customer connections.
HLR Lookup: What Does It Mean and What Does It Do?
HLR Lookup provides phone number validation and identifies the geographic location of a phone number. It recognizes whether a number is active or inactive, the carrier associated with the number, and the country in which the phone is registered.
Above all, HLR Lookup guarantees a more efficient outreach workflow, significantly reducing time wasted calling inactive or wrong numbers. As any customer-facing business knows, this type of service is an invaluable key to success in today's highly-competitive market.
The Top 3 Ways an HLR Solution Boosts Performance
1. It Keeps Your Business Up-to-Date and Organized
One of the chief aspects of this service is that it provides accurate information about the status and location of mobile phone numbers. Because of this capability, HLR Lookup can reveal inactive, obsolete, and repeated numbers in your database, allowing you to delete them and utilize a more effective dataset.
This instant organization also reduces the risk of sending multiple identical texts to the same numbers, potentially alienating clients with redundant outreach. This handy software guarantees that your business's contact details on file are up-to-date and accurate.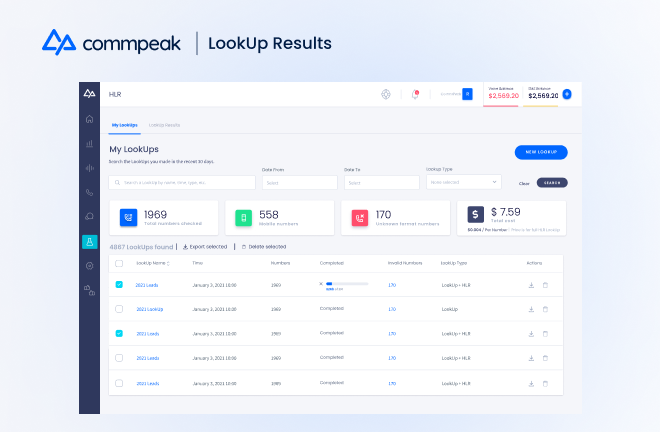 It saves you valuable time in the long run by drastically improving delivery and answer rates.
2. It Puts Time and Money Back into Your Pocket
Although there is a small fee to utilize this service, businesses save money in the long run by implementing this technology into their daily operations. Through home and mobile number validation, your business will avoid sending costly SMS messages and making expensive international calls to inactive or invalid phone numbers.
This advantage reduces the burdensome costs associated with failed attempts to reach customers – and keeps money in your pocket. With the extra available resources, you can invest in other areas of your business that need a little more attention.
3. It Allows You to Offer Customized Services
In addition to streamlining customer engagement, HLR Lookup provides your business the ability to offer highly tailored services to valued customers and spread its mission to targeted audiences.
Because it can verify the location and carrier of a mobile phone number, businesses are able to tailor their messages and promotions to distinct regions or carriers. Specific language and curated offers to target audiences can help increase customer engagement, long-term investment, and response rates.
HLR Lookup's impressive technology also helps businesses comply with regulations related to data protection and privacy. By verifying the accuracy of contact details, businesses know that they are not reaching out to the wrong individuals. This extra step protects sensitive information and maintains compliance with data protection regulations.
Fulfill – and Exceed – Your Mobile Phone Validation Needs With CommPeak
Do you think your business would benefit from working with an HLR Lookup provider?
CommPeak has everything you want from an HLR service provider – and more. Here are three reasons why CommPeak's software is the ideal choice for your company.
1. Highly Accurate Data
CommPeak is constantly updating our services and data analyzing methods to guarantee that customers can access the most up-to-date, effective information available. We use HLR and other successful phone number cross-referencing systems to analyze the legitimacy and connected network of the phone number in question, as well as a number of other data points.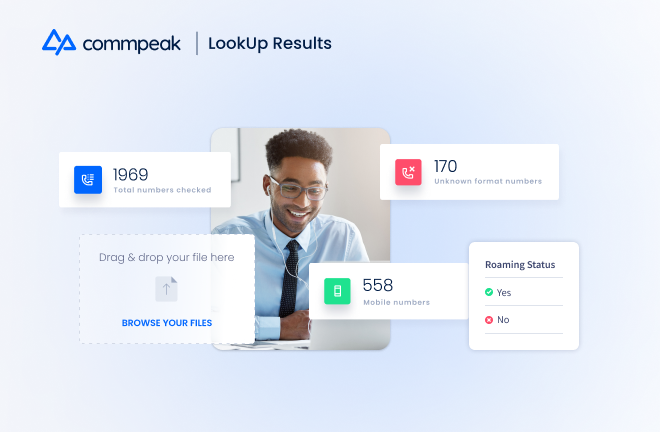 Our platform dependably organizes phone and contact information, investigates the geographic location and availability status, and uncovers essential number details. By utilizing a number of databases, CommPeak's LookUp service offers your business highly accurate information about any phone number.
This information better allows you to meet targets, increase conversion rates, and invest time and resources into real clients.
2. Extremely Cost-Effective
We are proud to offer the lowest prices on the market. CommPeak understands that cutting costs should not mean sacrificing the quality of results. Our extremely low prices save you money without compromising the integrity of your business.
In addition to our initial cost-conscious technology, the long-term financial benefits of adopting our HRL are vast. By regularly eliminating out-of-service numbers, your business no longer has to worry about the exorbitant sunken costs of calling invalid international phone numbers and sending them SMS messages.
If you're still unsure about CommPeak, we invite you to look up ten numbers on our product page for free – no signup or account needed!
3. Ease and Simplicity
We know that time is a finite, precious resource, especially in the business world. That's why CommPeak offers an extremely accessible, speedy process for you to upload leads. All we need from you is a .csv or .txt file indicating whether the numbers are in an international or local format and viola! 
Our easy-to-navigate interface streamlines an otherwise complex process, producing highly effective results in a very short time. Through a procedure that takes only minutes (and sometimes only seconds), you'll gain critical information to help support your business needs, including identifying out-of-service phone numbers and ultimately increasing sales potential.
We also offer an API if you prefer to create a direct integration between your internal system and LookUp, which further optimizes your operations.
4. We Care About You and Your Business
We know that you have options when choosing cloud-based workflow efficiency tools. One way we distinguish ourselves is by offering highly attentive customer service. CommPeak is invested in your success with LookUp, and we want to make sure you're satisfied with the product.
If you ever have a question about our services, you can contact the CommPeak support team 24/7/365 via a live chat, help ticket, phone call, or email. No matter the situation, we're here to support you.
What Are You Waiting For?
HLR Lookup is a powerful tool that verifies the validity of mobile phone numbers in real-time. By accessing accurate information about the status and geographic location of phone numbers, your business saves time, reduces operational costs, engages customers more effectively, improves SMS delivery rates, and maintains compliance with data protection regulations.
Any customer-facing business is sure to benefit from the invaluable addition of HLR Lookup to its communication toolkit. Sign up today to get started for free.