There's a reason why the VoIP services market is estimated to be worth $194.5 billion by 2024. There's been a seismic shift from the in-office 9 to 5 workplace grind. With the outbreak of COVID-19, companies quickly had to adapt their operations to accommodate mandated lockdowns.
Cloud adoption accelerated, Boomer bosses learned how to use Zoom, millennial workers took advantage of the work-from-home setup, and millions of others discovered opportunities to capitalize on the new reality.
There's an opportunity here for you, too. According to Buffer, 1 in 3 employees now work in remote companies, driving the need for more VoIP calling services. Those looking to boost their income can join a VoIP reseller program.
How do I Become a VoIP Reseller?
Becoming a VoIP reseller is not as tricky as starting your own business, but there are still a few details you should be aware of before you start. Here are the essential steps you need to take to begin:
Understand the VoIP Basics
In its simplest definition, VoIP is a technology that enables you to make calls over the internet. When pitching to potential clients, you need to prove how this technology can benefit their business in terms of cost, revenue, and productivity.
There are two types of VoIP services you can sell:
Reselling a Hosted PBX System – You provide a complete phone system to the client. They'll get access to a cloud-based or hosted PBX via a user portal.
Reselling SIP Trunk Services – You provide SIP trunk, or VoIP termination, services for businesses with an on-premise PBX system. You must ensure that their PBX is compatible with your parent VoIP provider.
Choose Your Business Model
After you decide which type of business VoIP phone service you prefer to sell, you'll then have to determine what kind of reseller you want to be.  
The easiest way is to become a dealer for an established VoIP reseller provider. Essentially, you'll act as a sales agent, recruiting or referring customers to a VoIP company. You'll need skills in sales and marketing, but the provider will do most of the heavy lifting.
Self-Sufficient VoIP Reseller
You will sell the product as your own and be responsible for provisioning VoIP systems and technical support to customers. You'll need extensive VoIP expertise and have access to a large network of carriers that will route customers' calls and SMS messages.
White Label VoIP Reseller
You will sell the VoIP service under your brand. You're responsible for the strategy, pricing, and customer relationships, while the wholesale VoIP operator will provide the systems and technical support. You'll need management skills and may have to hire staff.
Set Your Goals
Businesses across different industries can benefit from VoIP in a variety of ways. You'll need to determine your niche market and prepare feasible goals. These are the essential questions you must ask before becoming a VoIP reseller:
What is my target market?
Previously, large, outsourced call centers primarily used VoIP. But, with the arrival of the cloud, many businesses shifted their contact centers in-house. The demand for remote work due to global lockdowns also accelerated the shift from on-premise to cloud-based solutions.
While each target market has specific requirements, they all generally need a VoIP solution to serve their customers more effectively. Solid business communications are the cornerstone of success, with customer service now more crucial than ever.
Contact centers typically focus on cost-efficiency because they need to balance staffing costs with service delivery. Companies usually prioritize scalability because they need to balance operational costs with demand.
What is my target industry?
Businesses will have unique needs based on their industry, primarily if it's highly regulated or customers require extremely personalized services. For instance, data safety and security are critical if you're reselling a cloud-based VoIP solution to a fintech company. You must research the specific features businesses need and competitors offering the same service.
What is my target geography?
Ideally, you should start in your city; after all, it's the place you know best You'll be able to meet clients in person and build your customer base. As you gain more clients and confidence, you can expand. The more experience you have, the better you'll be able to find the customers needing your VoIP reselling services.
Determine Your Competitive Advantage
One look at the VoIP providers rated on G2, Trustpilot, and other major comparison platforms, and you'll immediately find it difficult to differentiate providers based on technology alone. For potential customers, they all provide similar features. Competing on price will become a race to the bottom, which isn't suitable for resellers.
Service, trust, and consistency are the best ways to differentiate yourself from the competition. Retaining existing customers is more beneficial in the long run than having a revolving door of new customers.
Choose The Right VoIP Reseller Provider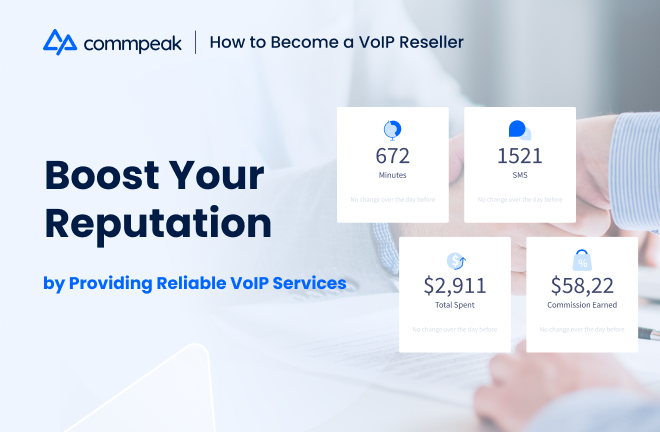 The VoIP reseller provider you choose will depend on your goals and business model. On top of these factors, you'll also need to assess these critical factors:
Expertise – Partner with an established brand to help you attract customers. A VoIP reseller provider with a decade of experience and proprietary solutions is a good choice. Imagine referring a friend to a company. Why would you recommend someone unreliable?
Working Practices – Assess their working relationship with clients and talk to other resellers in their VoIP reseller program. Are their monthly targets reasonable? Are they tied to long contracts? Think of all the questions you need to ensure your goals are aligned.
Quality of Support – If you don't have control over the solution or service, you're VoIP provider's support will be your lifeline. Is it easy to place new orders? Will they provide technical support if the customers need it? Make sure that they're also capable of supporting you as a reseller whenever you need
Be Your Own Boss. Join Our VoIP Reseller Program.
CommPeak has over ten years of experience delivering cloud-based VoIP phone services for business communications. Our customizable contact center solutions have been helping companies exceed client expectations since 2011. Get started today.