As the global macroeconomic environment continues to shift towards remote work, businesses of all sizes – and in all stages of development – are embracing cloud-based solutions to meet their communication and collaboration needs. The impact of cloud technology is particularly significant in call centers, where connecting with customers worldwide is a primary component of success.
Indeed, in the past decade, dynamic cloud-based call centers have quickly become the preferred choice for small startups, large enterprises, and everything in between. Equipped with state-of-the-art software offered by cloud contact center providers, these communication hubs allow companies to manage their operations remotely. The innovative program has also enabled small businesses to compete with larger companies by providing them with the same flexibility, scalability, and cost-effectiveness as their bigger counterparts.
Landlines are Relics of the Past
As we continue to adapt to technological advancements and changing landscapes, landline call centers have become relics of the past. Historically, call centers were often seen as necessary business evils, required to handle customer inquiries, concerns, and even complaints. Customers viewed these calls as pesky, often cyclical interruptions to daily life.
And it wasn't only customers who experienced the adverse effects of call centers. These centers were extremely costly, time-consuming to set up, and challenging to maintain. Worst of all, they required a substantial financial investment in specialized hardware and software – a potential death sentence to small and new businesses.
Moving to the Cloud Thanks to VoIP
Thanks to open communication protocols and next-generation software, the future's looking brighter for customer-serving businesses in all industries. Call center solution providers offer user-friendly tools that make establishing and managing affordable communication centers easier than ever.
Cloud VoIP as a Cost-Effective Strategy
At their core, these centers utilize Voice over Internet Protocol (VoIP) to handle both inbound and outbound calling routes. VoIP calls are received over the internet rather than through traditional phone lines, eradicating almost all of the issues and negative side effects that stem from antiquated phone systems – most notably, the financial burden of conventional call centers.
Indeed, this quick, efficient cloud-based communication protocol provides a cost-effective way to handle customer inquiries and support without investing in expensive equipment or infrastructure that is often faulty, breaks easily, and is quickly outdated. On average, companies report a 43% increase in savings after moving their operations to the cloud.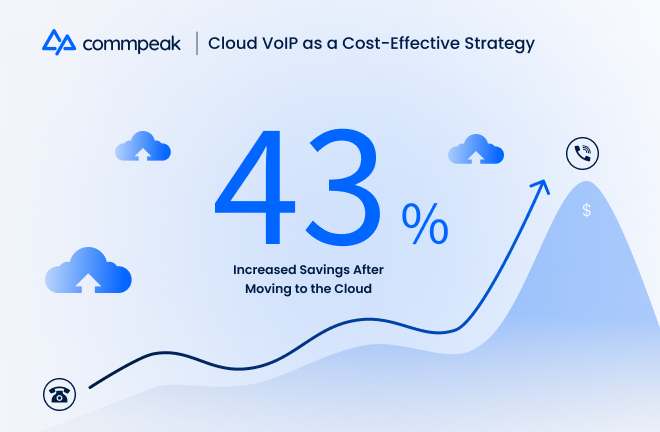 Working with cloud VoIP providers significantly also substantially curbs the cost of pricey, international phone bills. Because these calls are connected via the internet, paying for expensive long-distance or international calling rates is unnecessary.
Additionally, many cloud VoIP providers offer flat-rate pricing plans, which allows businesses to budget more effectively. This aspect allows new and smaller companies to quickly and efficiently establish an impactful call center operation without breaking the bank.
Leveraging the Full Power of the Cloud
It's clear that cloud-based solutions have made it simpler for businesses to serve large swaths of customers at cost-efficient rates effectively. But that's not the only reason so many companies worldwide have implemented this technology into their business plans and models.
In addition to relieving many of the traditional financial burdens of landline-based call centers, cloud solutions empower companies in other ways – including employee flexibility, tailored services, and multi-channel forms of communication.
Flexibility in a Changing Landscape
A fundamental advantage of these centers is the flexibility they afford businesses and employees. With a cloud-based system, agents can work from anywhere with an internet connection, including a dedicated call center office, at home, or on the go. This capability allows businesses to hire qualified employees, regardless of geographic location, without losing functionality.
Cloud-based operations also streamline the recruitment process and make it easier to retain high-quality, experienced agents, as global enterprises can tap into a larger pool of talent without geographic constraints. As the international community continues to navigate the effects of the pandemic, it's clear that remote work is here to stay.
This new norm perfectly complements the freedom of new centers because, as successful businesses understand, the ability to prioritize professional efficiency without sacrificing potential employees due to changing location or limited resources cannot be overstated.
Diverse, Personalized Features
Cloud-based call centers offer several qualities specifically tailored to meet the needs of your business. For example, many call center solution providers offer integrations with popular CRM systems, which can help companies manage customer relationships more effectively. The direct integration enables agents to focus on making calls without wasting time entering data on multiple platforms manually.
Seasoned cloud VoIP providers also offer automatic call distribution, call logging and recording, and real-time analytics. These features are must-haves for businesses that manage large volumes of customer inquiries – including banks, insurance companies, and investment firms. They are the qualities that help keep your operational workflow efficient and reveal crucial insights for optimization.
Multi-Channel Communication
One of the premier benefits of these call centers is multi-channel communication. As phone calls become increasingly less desirable for millennials and young people, offering multiple communication modes can increase client engagement. With many customers preferring to communicate via email, social media, or live chat, it is critical for businesses to effectively and strategically engage with these channels.
Not only do cloud-based solutions offer several channels of communication, but they also streamline these channels through a single platform. A single platform for multiple communication modes offers clients diverse choices, all while improving efficiency within your company and reducing the risk of miscommunication with clients.
By giving your customers the option to choose their preferred communication method, you maximize their overall satisfaction with your brand. Happy customers are the foundation of successful businesses.
The New Norm, For Good Reason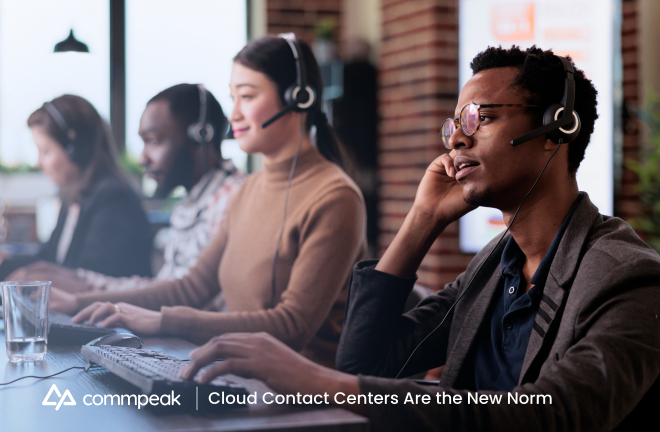 Ultimately, cloud-based solutions are an essential practice for any customer-oriented business. As the world continues to evolve, technology progresses, and different sectors become more accessible to the global economy and international clients, companies must adapt and implement the most efficient resources and technological advances. Whether you're a global business handling a high volume of calls, or a local startup looking to expand, a cloud contact center helps manage and meet your specific communication needs.
No matter who you are or what stage of growth your business is in, the fact is that there are dozens of advantages to moving away from landlines and towards cloud-based solutions. They offer the most effective version of communication and client outreach, as well as enormous external benefits, such as cost reduction and higher quality employees. With the ability to easily scale up or down as needed, and the flexibility to allow agents to work from anywhere, these centers are a powerful tool to help your business make a more considerable impact on the international market.
Capitalize on the Cloud With CommPeak
If your business's call center or customer-facing services haven't yet switched to using cloud-based solutions, it's time to get on the ball. CommPeak offers extremely cost-effective VoIP tools that increase your company's efficiency without breaking the bank.
Sign up for our free trial today, or get in touch with our sales team.