Luckily today, business owners don't need to sell their kidneys to afford long-distance calls. VoIP enables everyone to make low-cost broadband calls to any destination through a single provider. Choosing the right international call service provider, however, can be tricky.
With tiered pricing plans, you can end up with too many features you don't need. Or perhaps it turns out the element you need is behind a paywall. To help you out, we've rounded up the five best international VoIP calling services, so you'll know which provider is right for you.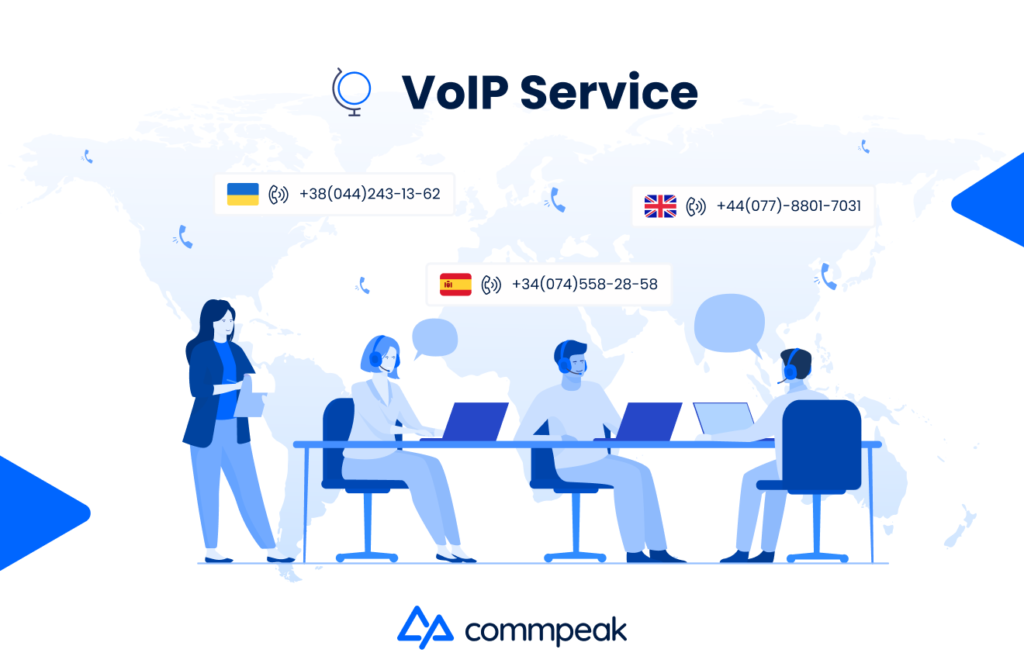 Best for Cloud-Based Contact Centers: CommPeak
CommPeak's VoIP Service was created for contact centers of all sizes that need cloud-based solutions.
CommPeak harnesses a pay-as-you-go system, so if you're looking for VoIP international calls, they're a practical and cost-efficient choice. The subscriptions for their Cloud PBX are less expensive than 8X8, another VoIP provider.
Prices:
Small ($49/mo)
Medium ($79/ mo)
Large ($149 /mo),
Extra Large ($299/mo)
Pros:
Pay-per-use billing
No commitment or one-time fees
DID numbers in over 75 countries
Worldwide calling to 190+ countries
Caveat:
Does not offer VoIP unlimited international calling for a set price
Best for Small Businesses: Phone.com
Phone.com is the cheapest option for VoIP international calls, making them a good fit for small businesses hoping to keep their operational costs to a minimum.
Basic ($11.99 user/mo) and Plus ($15.99 user/mo) users get a set number of monthly minutes. These users also get international call capabilities to seven countries already included in their plan. 
For an additional $4.99, subscribers can get a number in 28 "standard rate" countries. For $14.99, they can access another ten "premium rate" countries. Unlimited VoIP international calls are available for Premium users ($23.99 user/mo).
Pros:
All plans included metered calling for eight countries
11 international dial-in numbers for video meetings
Caveat:
Monthly-billed accounts need to prepay $200 before international calling is enabled
VoIP unlimited international calling is only available for Premium users
Best for Medium and Large Teams: RingCentral VP
RingCentral VP is one of the most well-known international VoIP providers. They're the best option for mid-sized to large companies that need VoIP international calls for a global workforce.
International calling is an add-on to their plans, which gives you more flexibility. For instance, if you make international calls, but rarely, you can purchase credits. If you regularly make international calls, you can buy an international calling credit bundle, an unlimited global calling plan, or an international number.  
On the other hand, RingCentral doesn't provide the cheapest plans and lowest international rates. Their lowest tier plan, Essentials ($14.99 user/mo billed annually), severely lacks value for money. You'll eventually pay for more expensive plans, even if you just need to scale for modest growth.
Pros:
Plans get cheaper as you add more users
Variety of international calling pricing options
Local and toll-free numbers in over 100 countries
Voice menu in more than ten languages
Caveat:
Not for the budget-conscious
Metered VoIP international calls only
One-time fee for international toll-free numbers ($14.99)
Minute-by-minute charges vary wildly. Rates of a specific area can be different from its country of origin.
Best for Solopreneurs: Ooma
If you're a solopreneur, RingCentral is going to be an overkill. Fortunately, Ooma is a good option for a one-person operation needing to make VoIP phone international calls.
Ooma is the only business VoIP phone service that provides unlimited international calling to landlines, making it an excellent solution for solopreneurs with home offices. Unlimited VoIP international calls are available across different pricing plans: 
Ooma Premier (to Canada and Mexico, $9.99 user/mo with a purchase of a $99 Telo device)
Ooma World (to landlines in 60 and mobile devices in 10 countries for $17.99 user/mo)
Ooma World Plus (to landlines in 70 and mobile devices in 40 countries for $24.99 user/mo).
Pros:
60-day free trial for the Premiere Plan 
Business phone plans include a toll-free number with 500 complimentary minutes per month
Affordable unlimited VoIP international calls for home offices
Caveat:
They do not offer international DID virtual numbers 
Only Enterprise Plans support CRM integrations
Best for International Toll-Free Numbers: 8×8
8×8 provides more toll-free numbers than all the international VoIP providers on this list. If you're an outbound call center and need a plan that includes unlimited VoIP international calls, 8X8 is a good fit if you're willing to pay.
8X8 subscription plans are grouped into two categories. The Business Communications subscriptions (X2: $24 user/mo and X4:$44 user/mo) provide unlimited calls if you purchase a global DID number.
The Contact Center subscriptions (X6:$85 user/mo, X7:$110 user/mo, X8:$140 user/mo) offer a better deal with unlimited international calls to 48 countries. You'll get the most out of international calling with the more expensive X series plans, but they come with features that a contact center needs, so you'll pick one of them anyway.
Pros:
International toll-free numbers in more than 120 countries
Offers unmetered internal calling and global workforce support
Caveat:
They don't offer as many integrations as other VoIP phone services for business providers
X series plans cost more than other international VoIP providers with the same features
Expand Your Global Reach Today
No matter how cheap the price tag and attractive the features, the first question any contact center should ask is," What about the call quality?" CommPeak has an extensive network of tier 1 providers for direct, shorter routing, ensuring that every international call you have – incoming and outgoing – is made through clear, uninterrupted connections.
Check out our VoIP Service and coverage for DID Numbers, or contact us today.