What is a Call Center?
In the 21st century, pretty much everyone knows what a call center is, even if they don't know how it functionally operates. However, for those that don't know, a call center is a centralized facility that businesses use to receive inquiries, send requests, and offer special promotions and services via telephone.
Call centers are utilized by companies and organizations of all sizes, from smaller financial businesses to global corporations. These communication hubs are an integral part of providing customer service and overall support, which, nowadays, is absolutely essential to market success.
What Are the Different Types of Call Centers?
When it comes to distinguishing between the types of call centers, there are, in fact, several nuances between them. When it comes to deciding which type is best for your business, the choice all depends on various factors such as budget, industry, and customers' communication needs.
But, first things first. Let's explore the various types of call centers and how they differ from one another.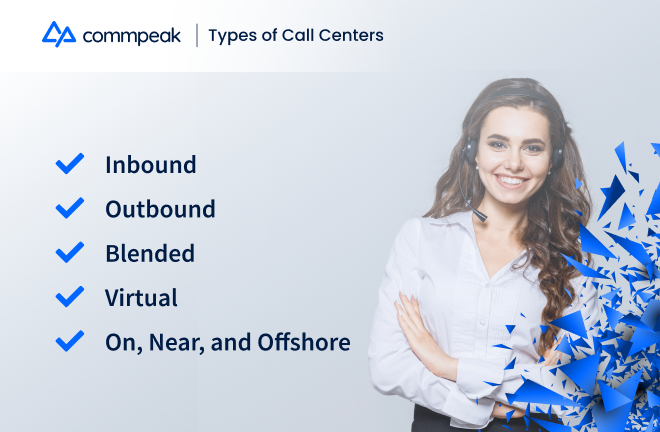 1. Inbound Call Center
Inbound call centers are the most well-known type of call center. These communication hubs were designed to receive high incoming calls from customers seeking assistance or information. The nature of these calls typically involves billing issues, technical support, or sales inquiries.
These inbound-focused call centers can either be established in-house or outsourced. In-house services are usually adopted by smaller businesses that need a bit more control over operations. However, they require a lot of resources.
Outsourcing solutions, on the other hand, are generally adopted by more giant corporations. They are cheaper to maintain and can serve customers in any timezone. If your business has a global customer base, an outsourced inbound call center might be the best option to ensure easy communications.
The Main Benefit of an Inbound Call Center
Inbound call centers are known for their prompt response time and excellent customer support services. Agents are specifically trained to work with clients until the issue has been resolved. With intelligent tools with IVRs and real-time queue management, customers' wait times are very low, which boosts their satisfaction levels.
Overall, inbound call centers help businesses manage a substantial amount of incoming calls while still being able to offer efficient yet personalized service to their loyal customers.
2. Outbound Call Centers
Another type of call center is the outbound one. Outbound calling centers are designed to get in touch with as many customers as possible throughout the day. Their operations usually focus on lead generation, telemarketing, or customer surveys.
Outbound call centers are also used for appointment scheduling and data collection. Ultimately, these types of call centers are used by businesses that take a more active approach to initiating customer communications. The goal is to gather market research or increase sales.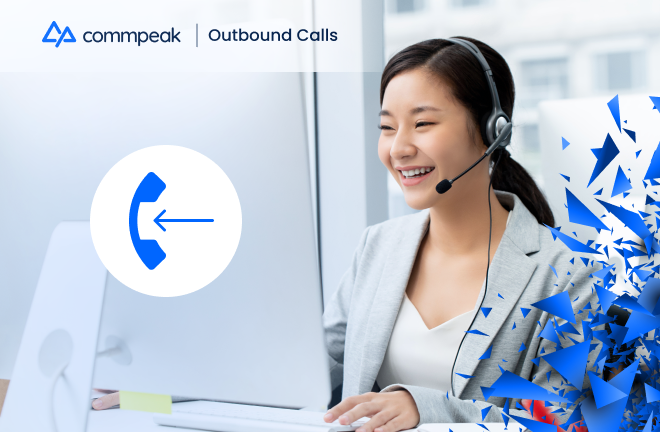 The Main Benefit of an Outbound Call Center
Outbound call centers help companies of all sizes reach out to their potential customers, which helps generate leads, eventually increasing sales. Outbound agents are also employed to collect valuable information about customer preferences. Businesses then use this data to improve and personalize their services.
Like inbound call centers, outbound operations also harness various tools to streamline their outreach process. Most notably, outbound agents utilize a predictive dialer, which connects them to live customers only. They minimize their downtime and maximize their sales opportunities.
Read this article to learn more about how a predictive dialer, like the CommPeak Dialer, helps outbound call centers maximize productivity.
3. Blended Call Centers
As the name aptly suggests, this center is a blend of both inbound and outbound calling, allowing businesses to cover both the sales and support sides of their infrastructure.
As a combination of the two, blended call centers also harness automation tools to help them streamline operations.
The Main Benefit of a Blended Call Center
These versatile call centers are ideal for e-commerce businesses with fluctuating call volumes. They provide a high level of flexibility, enabling managers to invest their resources into the areas that are most busy at the moment.
The fact of the matter is that nowadays, customers need to be able to get in touch with a business. Even if the main priority is placing outbound calls, certain customers want to be able to call back. A blended call center allows for this adaptability, boosting its brand reputation and overall reliability.
4. Virtual Call Centers
These call centers are not distinct in their overarching goals (i.e., making inbound or outbound calls) but rather by their equipment and mode of operations. In the history of call centers, virtual ones are a relatively new concept.
Instead of using traditional landlines and bulk hardware, communication solely occurs via the internet (on the cloud).
The Main Benefit of a Virtual Call Center
Because agents aren't tied to their desk phones, they can work from anywhere worldwide. Workplace flexibility not only increases job satisfaction (reducing turnover), but it also maximizes productivity. Agents can take their calls on the go, leveraging their time and ensuring their resources are invested in communication.
Moreover, virtual call centers are incredibly cost-efficient. VoIP (Voice over Internet Protocol) calls are significantly cheaper than landlines. Your business can easily expand its market to a worldwide customer base without breaking the bank. Plus, you'll reduce startup and maintenance costs without the bulky hardware.
5. Onshore, Nearshore, and Offshore Call Centers
These types of call centers are a separate part of the business. Whether they're outsourced to white labels or not, onshore, nearshore, and offshore call centers have their own distinct offices and protocols.
Onshore:

These call centers are located in the same country as their parent company or the company they're serving. If there are any issues or discrepancies, they are easier to resolve due to their close proximity. Additionally, employees are aware of local customers and language, enhancing your business's overall support services. Unfortunately, they are typically more expensive than their nearshore or offshore counterparts.
Nearshore:

Located in nearby countries to the business they're servicing, nearshore call centers operate in the same timezone, making it easier for the main customer base to reach out if needed. Nearshore is a solid compromise between maintaining control over communications and minimizing costs.
Offshore:

Offshore operations are usually chosen for the cost-savings benefits. They can be located anywhere worldwide. The most popular countries for offshore call centers include the Philippines, India, Brazil, and the United States. These call centers are highly cost-efficient but can be more challenging to manage due to time zone differences and language barriers.
Making Your Call Center Decision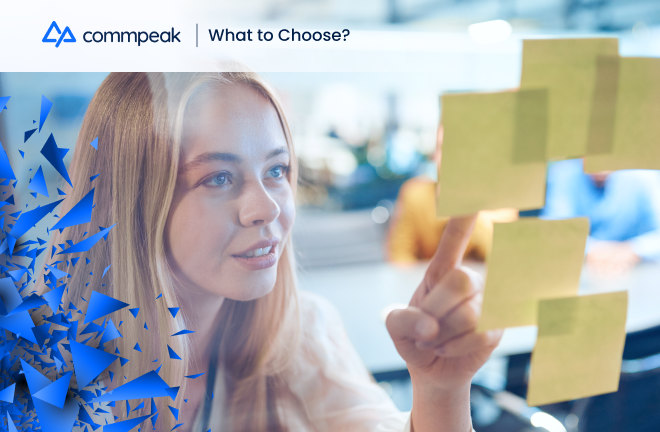 When it comes to deciding which type of call center would best suit your business needs, there are a wide variety of factors to consider. These factors include:
Your budget
Your business objectives
Your customer base's needs
Once reviewing these operations elements, you'll be ready to make an informed decision. Remember, there's no such thing as a one-size-fits-all call center, so you'll need to understand what type can best serve your top priorities.
The Bottom Line
All in all, call centers are an integral tool for businesses aiming to improve their customer service and boost their sales. By making the right choice, you'll be able to provide quick and effective assistance to customers and potential buyers.
You can maximize your calling productivity and reach more customers throughout the day, as well as gather invaluable insights that allow you to optimize your offerings. Being in constant communication with your customers is the key to success nowadays, and a call center is the perfect tool to get there.
Looking for Call Center Solutions?
Is your business searching for expert cloud-based solutions for its contact center? CommPeak offers cost-effective global VoIP connections, a scalable Cloud PBX service, and more.
Contact us today to learn more about how we can support your business's communication goals and help you achieve your objectives.