Starting a new venture can be an intimidating task. It requires courage because the average time to start turning a profit is around two years. Nevertheless, it can be manageable with a few realistic and guided steps to get you up and running quickly, bringing you one step closer to profitability.
To date, call centers have played an integral for customer-facing businesses that rely on positive experiences and brand reputation to succeed. Nowadays, customers set a high bar for their call center agents, expecting them to be knowledgeable, helpful, and patient while simultaneously solving the issue as efficiently as possible.
If you're a budding entrepreneur looking to enter the call center or BPO industries, investing in virtual solutions is the wisest course of action. These cost-effective tools, combined with their global capabilities, are the ideal way to reach markets worldwide and maximize your brand opportunities.
What Is a Virtual Call Center and Why Do You Need One?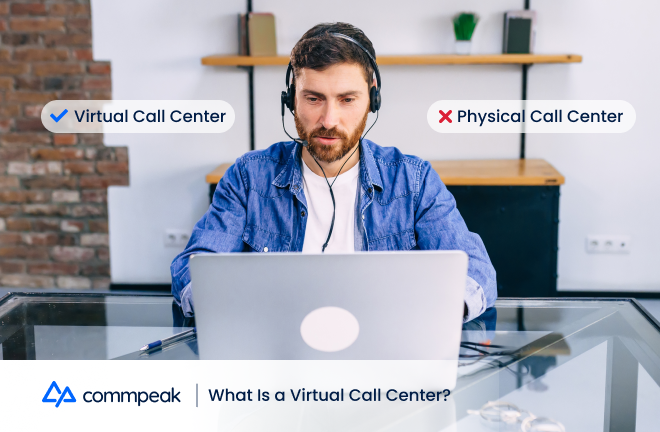 In terms of processes and agents' responsibilities, there is technically no difference between a physical call center and a virtual one. The real difference lies in terms of the means of establishing connections and your overall agent performance. Agents from virtual call centers can attend to leads coming in worldwide using web-based tools.
Virtual call centers are the best choice when establishing a new enterprise for a slew of reasons that are transforming the market. In fact, business research think-tank, Gartner, suggests that more than 33% of all customer service communications will be conducted remotely by the end of this year. You don't want to risk falling behind the competition.
The Benefits of a Remote, Virtual Call Center
There are many advantages to starting a virtual communication hub, all of which alone are reasons enough to choose it over a dated landline call center.
1. Reduced Operational Costs
Because virtual call centers run on cloud-based software, they don't require any of the typical hardware of traditional call centers. Everything from your PBX to your connectivity protocols is online, significantly reducing costs. Your business can even use WebRTC softphones to transform any device into a fully-functioning business phone.
Without the bulky hardware, you can easily save on your startup costs. Moreover, you can reduce office expenditures if you'd like to operate remotely. Indeed, your employees can work from anywhere in the world, including the comfort of their homes.
2. Less Employee Turnover
Virtual call centers grant your agents and managers much more flexibility than the alternative. Without being forced into a physical office, they have the freedom to make decisions and answer calls from their chosen location. While it may seem like a small gain, the increased autonomy is proven to give your agents more job satisfaction.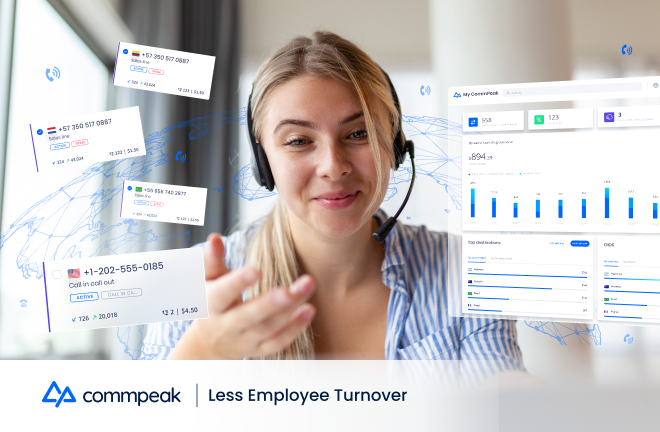 Another reason you'll have increased employee retention with virtual communication solutions because they are typically straightforward to use. Agents and managers can quickly become experts with the interface, reducing their frustration and making them feel comfortable with their responsibilities.
3. Broader Market Reach
An additional benefit of virtual call centers is that you have the ability to hire agents from all over the world. With talent in specific regions, your call center can more effectively market services to local customers. Research shows that clients are much more likely to buy from a marketer they can relate to, so someone with local knowledge will boost your sales potential.
Cloud-based calling solutions are also much cheaper than landlines. When you switch to VoIP calling, you'll have the resources to test out new countries that might be interested in your services without breaking the bank. The lower costs open up new, untapped markets worldwide.
4. Extended Business Availability
With a remote call center, you're no longer bound by time constraints. Particularly if you have agents located worldwide, you can ensure someone is always available for any customer that might reach out to you. If your business isn't reachable, customers will quickly switch to another company that can better serve their needs on time.
You can also make sure there's always someone ready to call the potential clients on the other side of the world! You don't want to miss out on opportunities because your team is sleeping. Working from home allows your agents to stay comfortable while meeting their quotas.
The Ultimate Checklist to Set Up a Virtual Call Center
Once you understand the many benefits of a virtual call center, you're ready to know how to get started with one of your own. But first, there are several business scenarios to consider. Planning a new business can be overwhelming, but if you follow these steps, you'll be good to go.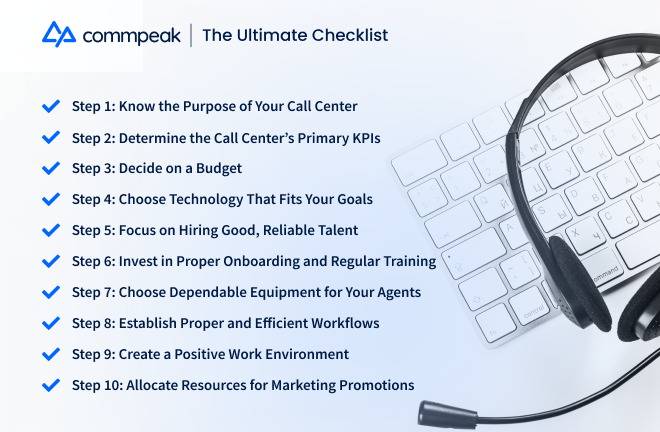 Step 1: Know the Purpose of Your Call Center
Keeping your purpose clear will help guide you throughout your entire business career. What do you hope to accomplish with your new venture? This fundamental question will help you make decisions and align your strategies.
Indeed, many new entrepreneurs fail to give the question the proper consideration. Their business vision, therefore, is lacking, leading to disorganization and mismanagement. A clear, explicit purpose will help you advance in your entrepreneurial journey.
A few critical details to decide on and help you understand your mission are:
What will the size of your business be?
What industry or industries will you operate in?
What customer base do you want to cover?
What are your customers' primary needs?
Will you assist existing customers or look for new leads?
The answers to these questions will pave the path ahead of you, leading you step by step to your ultimate goal of setting up a virtual call center that facilitates necessary business communications.
Step 2: Determine the Call Center's Primary KPIs
Once you've chosen the purpose, the following factors become much easier to figure out and plan. For instance, once you know your virtual call center's ultimate goal, discovering the right metrics to measure your performance will be a piece of cake.
These metrics are known as key performance indicators, and they will give you clear insights into how your business succeeds over time. Some common call center KPIs include:
FCR (First Call Resolution)

This metric is also known as 'First Contact Resolution' and is arguably one of virtual call centers' most crucial measurements. This metric determines your business's ability to solve problems efficiently. Customers appreciate quick service that solves the issue quickly.
FRT (First Response Time)

This KPI indicates your customers' average wait time before they are connected to an agent. This benchmark is critical if you're running a service-oriented, inbound virtual call center. Clients will often hang up and take their business elsewhere if they're left waiting too long.
AHT (Average Handle Time)

Handling time reveals how long it takes, on average, for your team to manage a call and solve any issues. AHT gives you a solid insight into your team's effectiveness, as opposed to an individual. After all, businesses must operate as a system, and success is a collective effort.
AAR (Average Abandonment Rate)

This rate reveals the percentage of calls disconnected by customers. Customers will typically abandon the phone call if it's not answered in a timely manner or if an agent isn't being particularly helpful. In general, you'll want to ensure your AAR stays low.
For more call center KPIs you might want to consider, check out this article.
Step 3: Decide on a Budget
An extremely crucial aspect of starting any business is determining your budget. Write a proper, realistic plan that reveals your initial investment and how much you expect to earn in the first few years.
For your financial plan, list the equipment you'll need to purchase. Other common expenses include employee salaries and insurance, reliable infrastructure like a solid internet connection, and top-quality tools that will help your agents automate mundane tasks and accomplish more throughout the day.
Step 4: Choose Technology That Fits Your Goals
Choosing the right software and technology corresponds directly to your virtual call center's financial and operational success. You should choose a VoIP solution provider offering CRM integrations, an in-depth helpdesk, and other automated tools to maximize productivity.
By syncing all of these functionalities, you'll save an incredible amount of time and effort on a daily basis. You should also choose a trustworthy, innovative provider like CommPeak that can offer highly customizable cloud-based contact center solutions that can meet any business requirement.
Step 5: Focus on Hiring Good, Reliable Talent
When all the geographical boundaries are removed (which they are, with a virtual call center), you open your business up to almost 4.5 billion candidates. With that big number of potential employees, you'll never run out of options when it comes to hiring good talent.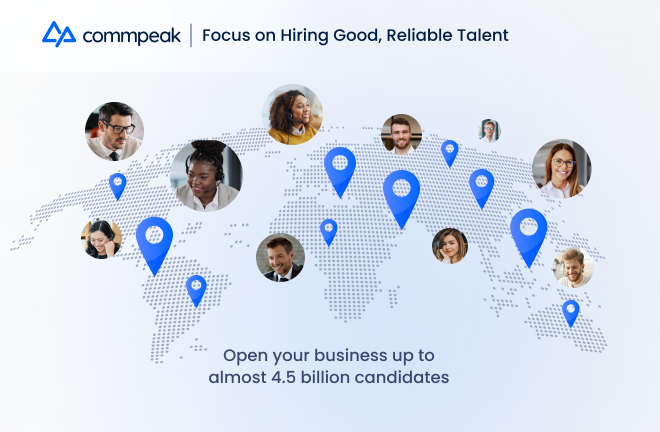 Conduct your talent search worldwide and hire top-of-the-field agents you can trust to give your customers satisfactory services consistently. After all, your workplace is only as good as the people who work there.
Step 6: Invest in Proper Onboarding and Regular Training
Even if you hire highly experienced agents, they will still require significant training to feel comfortable working with your system. A proper onboarding process and initial training program create a solid foundation for long-term success. You want to create an environment where your new employees feel comfortable asking questions.
However, remember that the learning process isn't over within the first two weeks. Building solid, enduring teams requires regular training sessions. It would be best to offer ample opportunities for agents to enroll in learning courses. Technology is evolving daily; you can find new emerging tools, policies, and procedures that will help agents perform better at their jobs.
Step 7: Choose Dependable Equipment for Your Agents
Because you're starting a virtual call center, the need for certain hardware is rendered obsolete. However, essential equipment is still needed, such as headphones, laptops or PCs, and other computer-related tools.
While some budding entrepreneurs prefer to choose the cheapest gear, it, unfortunately, comes at the expense of performance. Your business equipment impacts your agents' work. For one, they can tell you haven't invested in their positions, diminishing their motivation. Secondly, shoddy equipment could impede their productivity.
Step 8: Establish Proper and Efficient Workflows
Explicit workflows ensure your virtual call center operates in an efficient manner. By defining the steps involved in handling different types of calls, your agents can respond to customers promptly, helping to reduce wait times and increase client satisfaction.
These workflows can also help your managers ensure that agents work consistently and remain compliant with company policies. They also give managers a solid framework for which to measure performance, allowing them to identify areas that need improvement.
Step 9: Create a Positive Work Environment
Just because you're operating a remote work environment doesn't mean you should overlook investing in your company culture. Agents are still a team whether or not they are sitting next to each other physically, and it's your responsibility to make sure they become a closely-knit group.
Take steps to ensure that your workplace is a supportive space where everyone feels valued. When agents feel appreciated, they're way more likely to be satisfied with their jobs. Your effort will lead to increased motivation, higher engagement, and reduced turnover rates.
Step 10: Allocate Resources for Marketing Promotions
While it might be the last step, it's still crucial. Proper marketing of your new virtual call center will take your business to the next level. Create an innovative-looking website and matching social media account. Put your contact information on your platforms and highlight the ways potential clients can contact you.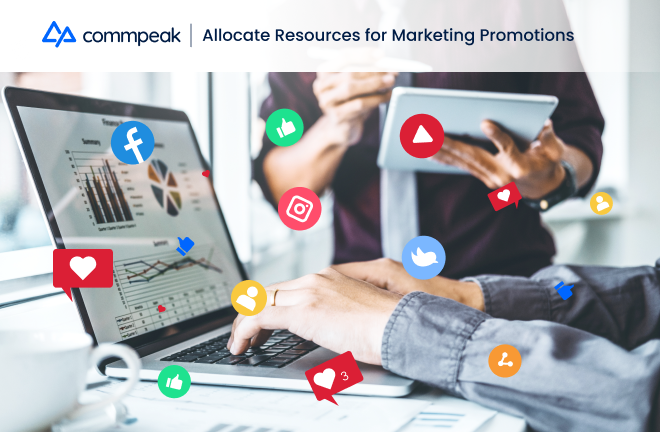 You may also want to consider investing in paid marketing activities to reach a wider audience. While it might initially set you back financially, paid marketing efforts usually pay off in the long run. They will allow you to compete with major competitors and snag some of their high-paying clients.
Begin Your Journey of Starting a Virtual Call Center Today
That's it! You know the essential 10 steps to building a successful virtual call center. If you're ready to keep the process rolling, start by checking out CommPeak's leading cloud-based solutions for remote call centers.
Our innovative tools can be tailored to meet your unique business needs and address your specific challenges. Start your free trial today, or contact our sales team to get started!