Have you ever wondered how businesses could provide many different numbers to call for their customers worldwide? Have you ever needed clarification about a company that called you with a local prefix, but you were certain their offices were located thousands of miles away? Chances are, these businesses are using DID numbers.
What Are DID Phone Numbers?
First, DID stands for Direct Inward Dialing, a telecom service that allows a phone number to be routed over the internet, eliminating any need for traditional landlines. The number isn't linked to a specific location or device and is instead situated in the cloud and can travel with you wherever you go.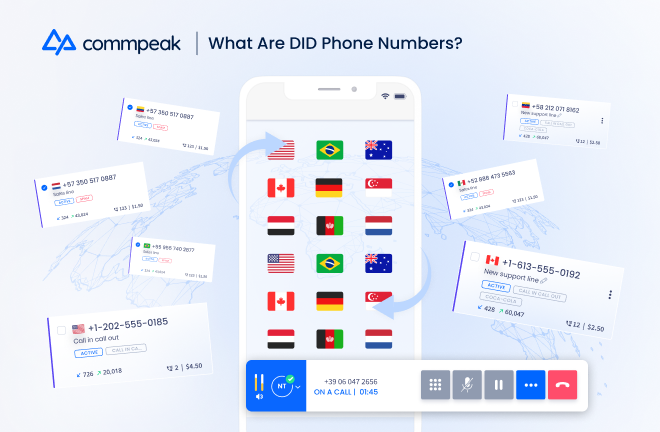 First, DID stands for Direct Inward Dialing, a telecom service that allows a phone number to be routed over the internet, eliminating any need for traditional landlines. The number isn't linked to a specific location or device and is instead situated in the cloud and can travel with you wherever you go.
The Exponential Growth of DID Popularity
DID phone numbers' popularity has grown remarkably over the past two decades. From humble beginnings as a free way to communicate via the internet, VoIP, DID services, and the broader area of UCaaS (Unified Communications as a Service) are fast becoming the preferred option for businesses of all sizes. Companies that haven't yet adopted cloud-based services are quickly falling behind the competition.
Traditionally, businesses were reluctant to purchase DID phone numbers and cloud-based telecom services on the whole because there was undeniably a tradeoff between the lower costs and the lower reliability. Many business owners simply wanted to maintain the call quality.
However, with the global rollout of 5G in 2020, CTOs worldwide finally agreed it was time to take the plunge. The new, high-speed technology promised massive improvement in quality and connectivity to the average internet user, and it delivered. Today, the industry is thriving and only projected to grow – experts predict the UCaaS market to hit $24.8 in 2024 with increasingly attractive and reliable options for virtual phone services.
How Can DID Phone Numbers Help Your Business Thrive?
With such a rapid market expansion, the data proves that working with a DID number provider will help your business. (Otherwise, the market would not continue to grow at a remarkable rate.)
Indeed, there are many great reasons to buy multiple virtual DID numbers for your company. Out of all of them, we're giving you our top five most important reasons to start using DID numbers now!
1. Easy to Implement, Use, and Track
Taking advantage of remote, virtual DID numbers for your business is relatively easy, but first, you must get set up with a cloud-based telecom system. Leading industry players like CommPeak offer easy-to-use solutions like the Cloud PBX they will set up for you, enabling you to make all your business calls directly over the internet with VoIP termination.
After that, buying virtual numbers is a piece of cake. Simply choose the DID vendor you want to work with and contact their sales team. They'll configure everything for you, so all you need to do is start calling. Some providers also offer a user-friendly dashboard that can help you monitor your usage. I.e., tracking how many calls you've made with a specific caller ID.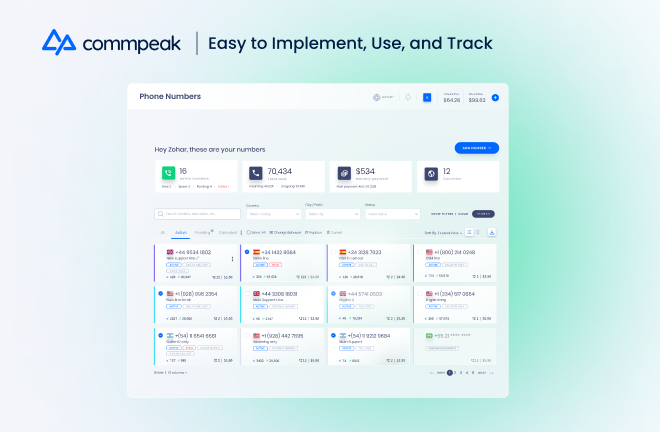 2. Location Independence and Flexibility
For better or worse, your locality reveals much about your business, indicating repeatability and trustworthiness, among other things. As more commerce shifts online, equipping your business with a prefix from a more prestigious location is becoming more critical. Customer perception and how your brand is assessed are crucial to success.
For instance, you can purchase wholesale local UK numbers from a DID number provider if your primary customer base is there. Even if you aren't there, your customers will be more inclined to trust your business. You get all the benefits of being in the UK without paying the price.
3. Significantly Improved Answer Rates and KPIs
In addition to significantly improving how customers perceive your business, virtual DIDs will also increase your answer rates. Research reveals that your potential clients are four times more likely to answer the phone if your business calls with a local ID. If your organization relies on making cold calls, local numbers will improve your answer rates unequivocally.
Once the answer rates start rising, the rest of your performance indicators will follow suit. As your business begins to connect with more customers throughout the day, the opportunities for reaching qualified leads and converting sales increase. With DID numbers, business growth is inevitable.
4. Future-Proof, Scalable Capabilities
When you buy virtual numbers from providers like CommPeak, with a far-reaching network of carriers, you'll always have the chance to buy more numbers (or scale back, if necessary). Plus, if you ever want to expand your coverage area, these seasoned providers typically offer DID numbers in multiple countries worldwide.
Moreover, you can feel at ease that you won't have to upgrade your technology anytime soon. As 5G, AI integration, and other telecommunication innovations progress, DID numbers will likely become the norm. In fact, they will probably become even more targeted to increase your answering rates even further.
5. Simple Remote Work Integration
When the 2019 COVID pandemic struck, the world's workforce was grossly unprepared for remote work. Nevertheless, businesses quickly adapted, and now, virtual operations are here to stay.
DID phone numbers make it easy for remote employees to integrate into existing teams. They enable these employees to reach the necessary parties, regardless of location. This convenience allows workers much more flexibility while also allowing them to maintain a level of anonymity amongst clients.
The Importance of a Trustworthy Wholesale DID Number Provider
After you decide to go virtual with your business communications, you'll need to source a reputable wholesaler. As more players continue to enter the telecom market, choosing the right provider for your company is essential. Here are three crucial factors to consider.
1. Access to DID Expertise
The best DID providers have experience in the industry and know how to configure your virtual numbers as quickly as possible, ensuring your operations flow uninterrupted. They will also be able to answer any questions or address any issues that arise during the process. Instead of leaving you to fend for yourself, the best wholesale providers will assist you every step of the way, from sales to implementation to ongoing usage.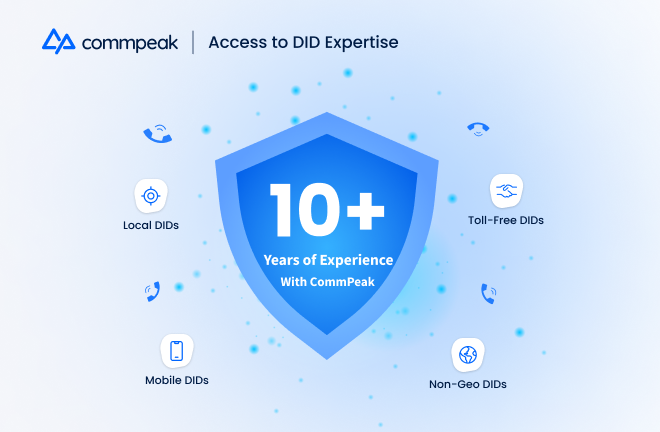 2. Guaranteed Compliance
Buying a virtual number can be tricky if you are unaware of the necessary documentation. Not all countries allow for the unlimited purchase of local numbers. Therefore, working with a wholesale DID number provider that knows the system and keeps your business compliant with regional regulations is critical.
A trustworthy DID vendor will also ensure you use your virtual numbers effectively and appropriately. Specific networks have strict rules regarding how many calls you can make daily with particular caller IDs. The best providers will inform you about your calling limits, protecting your company from potential repercussions.
3. 24/7/365 Assistance
Incidents and unexpected issues can occur at any time. So on top of choosing a DID provider with in-depth experience, you also need to make sure they are actually available when needed. Keep an eye out for those providers that offer 24/7 live support. You never know when you'll need help, and you don't want to be stuck waiting for someone on the other side of the world to wake up.
Buying Wholesale DID Numbers from CommPeak: A Simple Choice
CommPeak has been providing high-quality, cost-effective cloud communication solutions internationally since 2011. Our partners include Vodafone, BT, Telefonica, and many more. We offer local DID numbers in over 75 countries, ensuring you can boost your local answering rates and maximize your sales potential.
Get in touch with one of our seasoned DID experts today to discover how virtual phone numbers can transform your future business operation.