All too often, call center agents will find themselves listening to automated messages, delivering the disappointing news that the dialed number is invalid. Time has been wasted, and resources have been thrown away following a nonexistent lead.
Fortunately, CommPeak provides an all-in-one service that circumvents this frustrating obstacle. Our LookUp verifies and authenticates phone numbers worldwide. Long before you dial, you'll access reliable, in-depth information, ensuring you call valid leads only, maximizing your business success.
What Is the HLR LookUp?
CommPeak's phone number LookUp leverages the Home Location Register (HLR), a global database that provides you with the most critical information about mobile phone numbers. With this service, you can access a number's:
Issuing country
Type (i.e., mobile, landline)
Status (i.e., active, invalid)
Network name
With HLR LookUp, you'll know all you need to maximize your answer success rate (ASR) and optimize your campaign performance.
What Is the HLR LookUp? The LookUp-CommPeak Dialer Integration
We've integrated the phone LookUp with our highly customizable predictive Dialer with your operational efficiency in mind. No matter how you upload your leads and contacts, the information will automatically sync with your Dialer.
Furthermore, if LookUp discovers that any of your numbers are invalid, it will discard them from the system, ensuring they never reach your Dialer calling queues.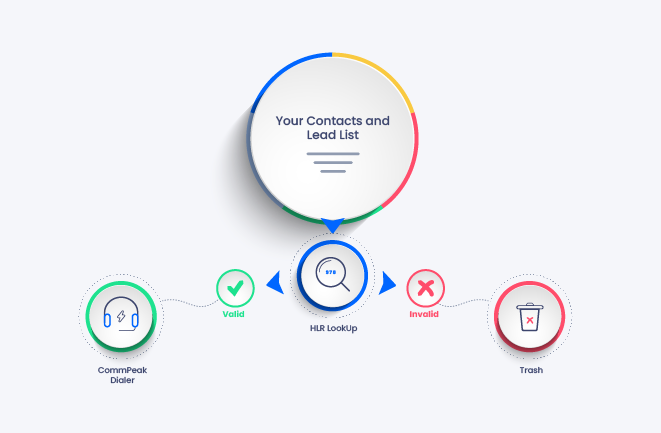 How Your Call Center Benefits
By validating your numbers and automatically transferring the active ones to your Dialer, you'll simultaneously reduce calling costs, optimize internal processes, close more sales, and more. Indeed, the telephone number LookUp is a time- and resource-saving tool that distinguishes your call center from the competition.
Maximized ASR

Without getting bogged down by numbers that have a 0% chance of being answered, your ASR will significantly increase.

Minimized calling costs

Instead of spending money that's consumed by long dial tones and automated voice messages, you'll call only genuine customers.

Boosted sales

Because agents won't waste their time on dead-end calls, they'll inevitably call more viable leads throughout the day, drastically boosting their sales potential.

Optimized operational efficiency

Your leads are automatically transferred from LookUp to the CommPeak Dialer, leaving you free to focus on customers and business development.
LookUp and Call Valid Numbers Only With CommPeak
Thanks to LookUp, you'll never have to worry about calling dead-end numbers again. Moreover, by integrating this resource-saving service with the CommPeak Dialer, you can guarantee that your agents leverage their time more effectively and more efficiently.
Are you interested in accomplishing more throughout the day, minimizing costs, and boosting sales? Then CommPeak's LookUp is the tool for your call center. Contact sales today!