It's easy to assume that cold calling is dead. Every online marketer will tell you content is king. However, according to Rain Group, 82% of buyers accept meetings from sellers who reach out, and 71% want to hear from sellers early in the buying process. Innovative outbound call centers have figured out that information and automation are still the keys to selling success.
Cold Calling Doesn't Have to Be Cold
Today, intelligent outbound operations are doing away with the all too familiar scenario:
Imagine getting a call from a person you don't know with a number outside the country belonging to a company you haven't even heard of offering you to buy something you're not interested in.
It's awkward for everyone involved. But it doesn't need to be this way.
Outbound call centers eliminate the awkwardness and increase conversions by identifying their ideal buyer persona, learning about their target audience, crafting the best sales pitch, and leveraging cold calling software.
What is Cold Calling Software?
Cold calling software enables you to automatically make calls, manage leads, and monitor agent productivity. Different VoIP providers offer various types of cold calling systems in the market.
Here are the questions you need to consider before deciding on the best cold-calling app for your business:
1. What Type of Auto Dialer Do You Need?
An auto dialer is software used to automatically dial phone numbers from a database. Companies use it for lead generation, telemarketing, and sales. The volume of outbound calls, the type of lead, and the kind of campaign determine which auto dialer best suits your operations.
Predictive Dialer

– Dials multiple phone numbers at once and connects a call based on predictions of agent availability. Predictive dialers are suitable for call centers that handle a high volume of outbound calls and need to connect with leads quickly.
Progressive Dialer

– Dials phone numbers depending on the number of agents. It works similarly to predictive dialing, except it only connects a call when the agent indicates that they're available. Progressive dialers are suitable for call centers with high-quality leads that need personalized engagement.
Preview Dialer

– Provides a preview of the customer's information before connecting the call. An administrator can configure when and how long the data is displayed. Preview dialers are suitable for upselling, cross-selling, or outbound campaigns that require customer information, such as collections.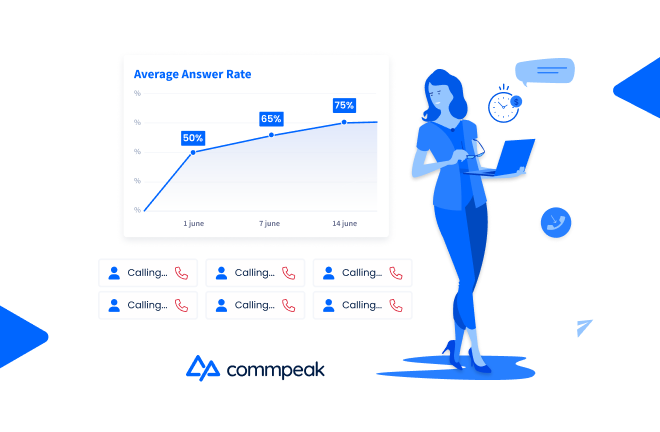 2. What Features Do You Require?
According to CallHippo, agents need to make six attempts before a prospect becomes a customer. You need more features than automatically dialing phone numbers to increase contact and conversion rates.
Customization

– Customizing calling rules, calling ratio, groups/subgroups, and routing options enable you to match the best agents with the right leads. 

CRM Integration

– Integrating your CRM lets you upload leads and keep them updated, so your agents know how to approach follow-up calls.  
Call Recording – Recording calls are essential for quality assurance and compliance.

Analytics

– Analyzing key metrics (such as average talk time) allows you to determine achievable KPIs and tweak your strategy as needed. After all, your agents are not robots.

Real-Time Monitoring

– Keeping track of productivity lets you get ahead of idle time and drop rate. It also keeps you in the know about your peak times and how many agents you need to account for the size of your calling queues.
3. The Top 3 Benefits of Auto Dialers
Reduced Agent Downtime

– Because all the dialing and connecting happens automatically, agents inevitably spend less time manually logging information. Moreover, once downtime is reduced, agents are more available to answer incoming calls, significantly reducing your call center's average call waiting time (AWT).

Higher Sales Potential

– When you implement your routing rules based on lead details and agent skills, there's higher compatibility between the two parties. When there's a personal connection, your conversion potential exponentially increases. Customers are more likely to make purchases when they feel cared for and heard, and smart-matching maximizes those chances.

Total Workflow Control

– Instead of hoping your agents will remember to call back their clients who didn't answer the phone yesterday, you can be entirely sure with auto dialer software. You can also rest assured that they will reach out to the most important leads first. As a manager, you control the calling priority; no exceptions!
4. What Are the Other Tools You Need?
While an auto dialer has features that maximize the efficiency of your outbound campaigns, there are tools you can use to refine the sales prospecting process. You can use these alongside the cold calling software:  
Despite what others may believe, calling your prospects is still an important part of sales in today's digital age – people still buy from people. You can turn leads into loyal customers by cultivating relationships through human – instead of just digital – interactions.
Empower Your Outbound Sales Team Today
Whether you're as small as an eight-man sales team or as big as a 300-seater enterprise, CommPeak's cold-calling software can boost agent productivity. Schedule a demo for our CommPeak Dialer and find out how we can help you exceed your outbound sales goals. 

Sign-up for a free trial or contact us today.